Council Meeting Information
City Council Meetings
6pm the 2nd Wednesday of each month at the City Office

There will be a special meeting held April 26th at 1:00pm regarding the campground contract.

Current Agenda

Latest Meeting Minutes
---
Department Commissioners & Council Assignments
---
Mayor
Brian Hitchcock
acting Mayor
Dan Riggs
FIRE BOARD
(2 people recommended, 1 Council, 1 Citizen)
Bobbie Emery and Citizen TBD
Brian Hitchcock (Alternative)
PUBLIC WORKS COMMISSIONER
Billy Krotzer and Dan Riggs
SAFETY COMMISSIONER
Bobbie Emery (FIRE)
Brian Hitchcock (POLICE)
PERSONNEL, FINANCE, ADMINISTRATION
Brian Hitchcock
LIQUOR COMMISSIONER
Bobbie Emery & Dan Riggs
ECONOMIC DEVELOPMENT COMMISSIONER
Brian Hitchcock
PARKS & RECREATION COMMISSIONER
Billy Krotzer
PUBLIC STREETS COMMISSIONER
Margaret Bond-Vorel and Dan Riggs
ORDINANCES COMMISSIONER
Billy Krotzer and Margaret Bond-Vorel
PUBLIC EVENTS COMMISSIONER
Margaret Bond-Vorel and Bobbie Emery
---
2016 Drinking Water Report

The City of Akeley CCR 2013 Drinking Water Report will not be mailed or published, but is available for review at City Hall Monday thru Thursday 8am to 4:30pm and Friday 8am to 12pm, printed copies will be available upon request.
The report is posted on the City Web Site http://www.akeleymn.com/city/consumer-confidence-report.pdf
Call 218-652-2465 if you have questions about the City of Akeley drinking water or would like information about opportunities for public participation in decisions that may affect the quality of the water.
Melody Boettcher
City Clerk Treasurer
Posted 06/29/2016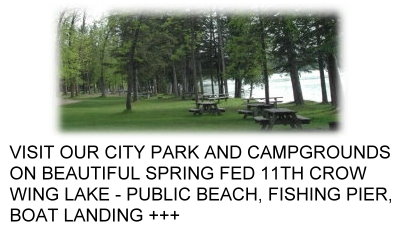 Municipal Liquor Store
City Hall Facility Rental
---
THIS INSTITUTION IS AN EQUAL OPPORTUNITY PROVIDER AND EMPLOYER
If you wish to file a Civil Rights Program Discrimination Complaint Form, found online at http;//www.ascr.usda.gov/complaint_filing_cust.html, or at any USDA office, or call (866) 632-9992 to request the form. Send your completed complaint form or letter to us by mail at U.S. Department of Agriculture, Director, Office of Adjudication, 1400 Independence Avenue, S.W. Washington, D.C. 20250-9410, by fax (202) 690-7442 or email at program.intake@usda.gov
Employment Application
NOTICE
City Hall may be closed periodically throughout any normal working day for the following reasons.
Lunch - Errands - Appointments - Employee or Family Illness EMERGENCIES
We sincerely apologize for any inconveniences this may have caused.